The Top 30, Pt. 3
Sorry for the delay folks...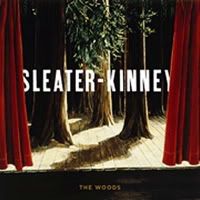 10. Sleater-Kinney –
The Woods
Raw, distorted electric guitars, booming drums, no bass and lovely female vocals: nothing all that new for Sleater-Kinney – 'cept for the allegorical "The Fox" and the absurdly long for S-K guitar jam out "Let's Call It Love." Like all bands worth their weight in anything other than feces and Creed albums, S-K's evolution continues without alienation (at least in my eyes). Another album produced with skill by Dave Fridmann (who shows that he can work outside of his comfort zone and produce something this fiercely raw), S-K remains inspiring not just for young girls out there who are looking for a musical role model that doesn't lip-synch or suck, but for all fans of good music.
Representative track: "Modern Girl"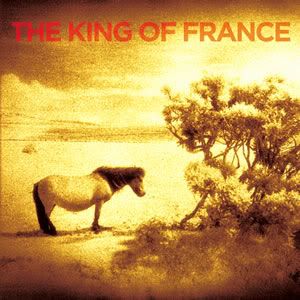 9. The King of France –
The King of France
Another odd source for me finding this band: Edward Norton. Over a year ago, pure curiosity struck me when on iTunes I saw his celebrity playlist, which had several KofF songs on it. I investigated and liked what I heard. I subsequently saw them live, picked up their album and have tried to spread the word to others. Their drummer, Michael Azzerad, is one of the finest rock journalist alive as well, which makes up for the fact their singer is a cocky, self absorbed bastard onstage (I have no idea of his off stage manner). But I love 'em anyway. Certainly a promising debut (as a band – singer/songwriter Steve Salad put out an album under this name a few years ago, but it did not feature Azzerad.
Representative track: "Watch Out For The Man"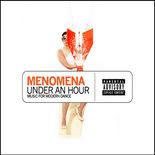 8. Menomena –
Under An Hour
From dancy, beat-driven indie rock to chamber music with a drum set, Menomena morphed between their first two albums like few bands I can think of (Liars and the Modern Lovers are the only two that come to mind). The three pieces that make up the album (quite literally under an hour – around 54 minutes) were commissioned by a dance troupe calling themselves The Monster Squad (awesome) and the band debuted the tunes live with the troupe last year. The album jumps out of your speakers with lots of horns, percussion and keyboards – it is truly an exciting cycle of songs. What is next, Menomena? Maybe they can convince me that deep down I really do like polka.
Representative track: "Flour"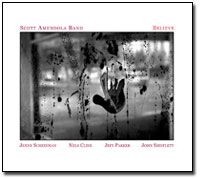 7. Scott Amendola Band –
Believe
Back in the day I hear what I thought was a new Pearl Jam song on the radio. It turns out it was some guy named Mike Watt, and his buddies Dave Grohl and Eddie Vedder were playing on that song, called "Against the 70s." Well, that made me investigate Watt, and I've been a huge fan ever since. From Watt I discovered guitarist extraordinaire Nels Cline, and through Nels, drummer Scott Amendola. Nels plays guitar on Amendola's latest album,
Believe
and the results are fantastic. Featuring Amendola's vision of "strings and percussion" exclusively, the album features bass, violin, drums and guitars courtesy of Mr. Cline and Jeff Parker of Tortoise. I suppose you could call the music jazz, but it is really more than that. It is in the pocket yet loose, experimental yet familiar and just flat out good.
Representative track: "Oladipo"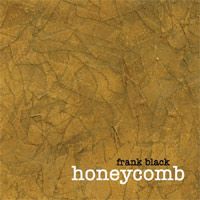 6. Frank Black –
Honeycomb
Solo for the first time since 1996, Black enlisted the help of Nashville producer Jon Tiven to bring this batch of songs to life. Tiven, in turn, brought together some of Nashville's best – Steve Cropper (Booker T and the MGs, the Blues Brothers), Spooner Oldham (Neil Young), Anton Fig (The Late Show Orchestra), etc – to flesh out the recordings. The results are mixed – the songs are some of Black's best, but the shotty production of Tiven leaves the album sounding flat and lifeless at times when the combination of talent should have burned through the tape. However, the songs are so strong, and certain performances so strong (like the extended Reggie Young guitar solo at the end of "My Life is in Storage") that you can't help marvel at the quality of the album even if, like so many other things, it could have been so much more.
Representative track: "Honeycomb"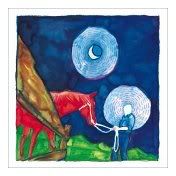 5. Calexico/Iron and Wine –
In The Reigns
Like peanut butter and chocolate, some things were just made to go together. Sam Beam's downtrodden characters feel more optimistic than usual when backed by the southwestern sounds of Calexico – the pedal steel especially brightens up the arrangements. The added instrumentation may seem unnecessary to some, but this is truly an inspired pairing, and one that I hope continues in the years to come.
Representative track: "A History of Lovers"
4. Stephen Malkmus –
Face the Truth
Equal parts of his chameleon-like debut and his jammy
Pig Lib
,
Face the Truth
feels a little bit like a crossroads for Malkmus – all of his other records (save
Terror Twilight
) felt like a progression from the previous, and this album feels a bit like someone taking stock of their back catalog of songs. Sure, there are a few tracks that really don't reference his past (most notably "Kindling for the Master"), but for the most part we are in familiar territory. Which is NOT a bad thing at all – "Mama" is a bright piece of nostalgia pop, "Post-Paint Boy" sounds like the musical sequel to "Major Leagus" and "It Kills" should have been track 2 on Pig Lib. Will "Pencil Rot" and "Baby C'Mon" signal a move towards more loud guitar sounds in the future? Only time will tell.
Representative track: "Pencil Rot"
3. The Bad Plus –
Suspicious Activity?
The world's greatest jazz band slows down the pace on their 3rd Columbia record. There are only a few cases of the band getting up to its usual speed, but the record does not drag – it simply invites you in and then, like a lazy river ride at a water park, carries you around for awhile. There are a few more studio parlor tricks this time around as well – like the keyboard introduction to "Rhinoceros is my Profession" and the processed drums on "Anthem for the Earnest." "Let Our Garden Grow," my personal favorite, is at first (and even second) listen an uncontrolled mass that occasionally has something resembling a melodic structure, but upon further listens, the track becomes as straight forward as "Happy Birthday" – you just have to listen enough to figure out the password. For the unadventurous listener: stay away (especially because there is only one cover song here, "(There From) Chariots of Fire")
Representative track: "O.G. (Original Gentleman)"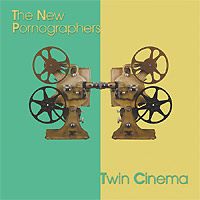 2. The New Pornographers –
Twin Cinema
It is almost unfair how well A.C. Newman writes music. Simple songs that stick in your head all day long are not simple to write, but Newman does it with ease. This is by far the most diverse N.P.s album thus far, not that there are many songs that you aren't singing along to half way through the second chorus, but the band has stretched out a bit. More ballads (if you can call songs about fables and human remains ballads), more diverse guitar sounds, and the most straight-ahead songs Dan Bejar has ever brought to the table. Neko Case, as always, is a doll face both in person and on record, and her voice lifts these songs to near-impossible levels. If the typical 'every two years' pattern of records is going to be the norm for this collective, then I'm a very happy man.
Representative track: "Sing Me Spanish Techno"
1. Sufjan Stevens –
Sufjan Stevens Presents: Come on! Feel the Illinoise!
One word: epic. This album is densely packed with marching band-horns, guitars, percussion and voices but never once feels cramped. Stevens paints a large canvas here, with songs about serial killers, superheroes, first ladies, zombies and cities in his second of the 50 States project. I could go on and on about his songwriting, vocal and arranging skills, but there are enough people out there saying the same things I'm saying. All I can do is very strongly suggest you pick up this record, and if it doesn't hit you right away, wait until the shift in track 3 – if you're anything like me (or Dan D'Ippolito) from that point on, you're sold.
Representative track: "Come On! Feel the Illinoise!"